Episodes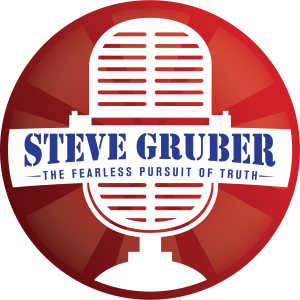 Friday Jan 13, 2023
Friday Jan 13, 2023
Live from the no panic zone—I'm Steve Gruber—I am America's Voice— I am an America First kind of guy—BUT I am willing to call it as I see it every day—you may like that and you may not—BUT that's the way I roll—so lets get to it—
Here are three big things you need to know know right now--
ONE— The Fraudulent Republican Congressman George Santos—who made up his entire resume before winning a seat in the House—may not be there much longer—I'll have the latest—
TWO— If you thought the babies of the nation were fine and eating well—then you were misled just like the rest of us—seems the baby formula shortage is back—and getting worse—
THREE— And the Democrats and the media hand maidens are totally screwed today—
They spend the last 24 hours telling you how the discovery of classified documents in Joe Bidens Penn-Biden office—associated with the University of Pennsylvania—was just a one-off—a handful of documents that were overlooked and could not possibly be compared to the treachery of former President Donald Trump and the documents found during the unprecedented raid on Mar-a-Lago—
The Media and Biden taking time to point out—it was just one location and less than a dozen documents and in no way could that be compared to what the former President had done—
Yeah, it did not take long for that narrative to explode in the face of the West Wing—and all over the media lapdogs trying to sell the idea that Joe Classified documents were somehow ok—and former President Donald Trump should be held to a different standard—
Because BOOM here it is! 
Another devastating revelation for the the Biden White House—that another trove of classified documents have come tumbling out of the shadows of Joe Bidens time as Vice President—and they were found in a new location—and they have not even looked at the classified docs on Hunters laptop—but that is something we will talk about later—
So now the question is how many stacks of classified documents are in the possession of now President Joe Biden in the many offices he maintained while serving as a US Senator, Vice President and now President—
I mean does anyone actually think he can remember where he put highly sensitive documents—who they could put in danger—or what the implications could be?
He cannot remember what kind of PB and J he had for lunch—why would he remember that—
I heard a saying yesterday—that I want to share that I think applies to Joe Biden as much as anyone I have ever seen—Once a Man… twice a child—
That's right, Once a Man—twice a child—think about that! Joe Biden has returned to a child state in many ways—he is incompetent and certainly incontinent—and is in no way capable of leading this great nation of ours—He is being led around by his nose—told what to say, what to sign, what to promote—and his handlers from the World Economic Forum and elsewhere—must pull their hair out every time he dviates from the mega-tron prompter—because it puts all of the behind the scenes manipulation in danger of being exposed—BUT I digress—
So here we are this morning—with the Biden puppet masters in full blown panic again—this time over where the hell did that last dump of classified documents show up from—and how many more land mines are we about to hit?
The fact is—they don't know and neither do we—but right now I am taking the over on the bet—are there two piles of classified documents in Joe Biden's possession right now--that those pursuing former President Trump would call illegal?
Yeah I am taking the over—because now that they are tumbling out of the darkness—I believe it will continue—because there are a few honest journalists left in the world that will actually pursue this story—and yes—it is a story—
The takeaway is this—its all or none for Joe Biden and former President Donald Trump—either having these classified documents from former administrations constitute a violation of the law—or they do not—
All of the rationalizing by the babbling heads on left wing TV do not convince anyone—that Trump would be guilty and Biden would not—when they appear to have committed the same act—involving very similar documents—
So I am sitting here—waiting for the third dump of Biden classified docs—and then number four and five—
Lets be clear, Joe Biden is not the sharpest ax in the barn—and he has built a career on plagiarism and marginal talent—and that is being quite generous—so I believe—he is about to be roasted on the fire of hypocrisy in a way that even partisan Democrat hacks in government and on TV will not be able to clean up in the spin cycle—
Like I said yesterday—at some point, like the southern border, you reach critical mass—and you have no choice but to fess up and take your licks—
Joe Biden, MSNBC, CNN, The New York Times, Washington Post, Time, Newsweek, The Atlantic and a bunch more are about to get slapped really hard back to reality!