Episodes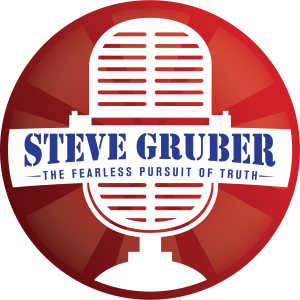 Tuesday Dec 06, 2022
Tuesday Dec 06, 2022
Live from the no panic zone—I'm Steve Gruber—I am America's Voice— Delivering an Equitable and Socially Just news and talk program— using only sustainable topics that maintain maximum diversity and inclusion— and for the record no animals were harmed in the production of this program!
Here are three big Things you need to know right now—
ONE— An American nuclear submarine was buzzed by an underwater vehicle going faster than the speed of sound—UNDERWATER—how could that possibly be?
TWO— Thousands of North Carolina residents remain without power after a violent attack on a power station there—the question is who did it—and will there be more?
THREE— The decision by Elon Musk to drop $44 billion dollars and buy Twitter—is one of the biggest shock waves in American political history—because it stripped the left of a full blown monopoly on social media—
It means the de-platforming and the canceling of voices unpopular on the left—have for the most part come to an end—and it means the GOP will be able to compete on a much more even playing field—
The left cannot stand it—and the smear jobs on Elon have become so agitated—the left seems to have forgotten about its hate for Donald Trump and are focusing now on Elon Derangement Syndrome—or EDS—
And now the Republicans are getting ready to dig deep and identify everyone inside the government and the Deep State who were involved in misleading the American people by censoring the news— and preventing people from hearing the truth about Hunter Bidens laptop from hell—