Episodes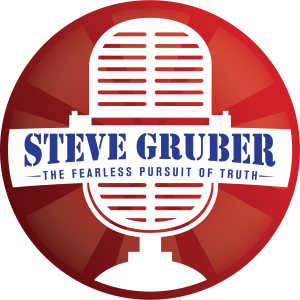 Tuesday Nov 14, 2023
Tuesday Nov 14, 2023
Live from STUDIO G- in the heart of America- I'm STEVE GRUBER- saying the things you wish you could -every day-  fighting for you from the Foxhole of Freedom and defending this great nation-- this is THE STEVE GRUBER SHOW!
Here are 3 big things you need to know right now—
Number One— Crime is out of control in the nations Capital—and the Presidents own granddaughter was targeted by Car jackers that were run off by the secret service—what is being done?
Number Two— San Francisco is suddenly clean and shiny—weird that it happened to impress the leader of the worlds largest communist country and not to impress the taxpayers in the city—
Number Three— Identity politics has been the bread and butter for America's rising socialist movement—which is more often called the Democrat Party—that is led by the fading and senile Joe Biden—
Now to be clear—Joe doesn't actually stand for anything and he never has—I mean go look at his flip flopping over the years and its becomes painfully clear that senile Joe just does whatever is politically expedient—he goes for the low hanging fruit and twists to the political winds—every. single. time.
But the idea of identity politics—or more accurately multi-culturalism—has been the focus of appeasing and enticing various special interest groups to back the Democrats here at home—and the progressives all over Europe and elsewhere—
For some reason—the left wing of those political movements had the idea that if they created numerous special interest groups of various sizes and declared them victims—they could tell them—they, the Democrats would be there to save them from the mean Republicans and Conservatives—
This has led infamously to the invasion of Europe and now the United States by literally tens of millions of illegal aliens and migrants from all kinds of nations that have almost nothing in common—certainly with European cultures and increasingly the culture of the United States—
BUT if you get caught trying to point out the magnitude of the failures and the threat these mass migrations pose to the very host countries that are allowing it to happen—you are smeared as a racist, a bigot, an islamaphobe and a thousand other things—
Of course, that is not true.
In Poland over the weekend—hundreds of thousands of Poles turned out to celebrate their nation and their heritage—Poland is among a very small handful of nations that have flat out rejected the E-U's demand that they too open their borders to be flooded with people who don't give a damn about Polish heritage in sovereignty—
Other nations have not been so stringent—in fact several countries are now facing real identity crisis—
We know of course because in England, France, Germany and several other countries—the Palestinian flag has been raised on national memorials and statues in recent days and weeks—as the migrants are making demands of the governments—
Tens of thousands of pro-Palestinian protestors have flooded the streets—and clashed with police in violent altercations—and again if you speak out—you put yourself in the crosshairs—
That's right—Braverman was fired—so that Rishi Sunak can re-make his cabinet with no dissention against the ongoing invasion and destruction of British culture—
But while Britain is fighting to keep its identity—some like Poland and now Spain—are fighting back—
In Spain—Prime Minister Pedro Sanchez is trying to make a backroom deal to allow a group of rebel separatists to be pardoned—so he can get their votes—and continue down the path to massive socialism—BUT the people are not sitting back and taking it—
But why is it not leading newscasts here and around the world—I mean hundreds of thousands of Spaniards are rejecting the deals Sanchez is trying to pull off—and its getting pretty serious and it could turn ugly and soon—
And its happening all across Western Nations—here in America the multi-culturalism has been exposed by the war in Gaza—and is threatening to undermine America's dedication to Israel for the past 75 years—
And that is just one of hundreds of examples I could have shared since October 7th—and the Hamas unprovoked terrorist attack on Israel—it has literally cut the Democrat Party in two—and that internal Holy War shows no sign is dissipating—
This is what happens when you put identity politics ahead of citizenship—this is what happens when you put waves of illegal aliens ahead of citizenship—and I can tell you—what we are seeing in Poland and in Spain could soon be happening here—when Americans finally stand up and say NO—NO MORE—
Oh and one more thing—putting on your best to impress a dictator—that is happening too—