Episodes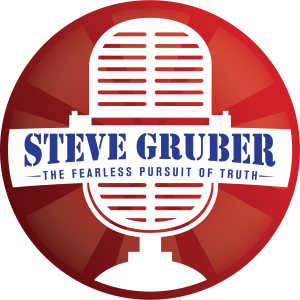 Thursday Nov 09, 2023
Thursday Nov 09, 2023
Live from STUDIO G- in the heart of America- I'm STEVE GRUBER- saying the things you wish you could -every day-  fighting for you from the Foxhole of Freedom and defending this great nation-- this is THE STEVE GRUBER SHOW!
Here are 3 big things you need to know right now—
Number One— Amazon has jumped into the Healthcare world full speed—One Medical Health Care will be offered at just $9 a month to Prime members—is this good or bad?
Number Two— The House under the direction new Speaker Mike Johnson—is moving swiftly to get things done—which was underscored by the first 3 indictments of the Biden Family—including Hunter and brother Jim—
Number Three— And I will get to all of that—and what those subpoenas could mean—because according to those that are watching this closely—Joe Biden's 85,000 emails under 3 fake names could include classified information and incriminating evidence of what was going on with the then Vice President—
Plus, several more emails are likely to come in the days to come—and that could include the sitting President of the United States—the question is—how will the administration respond to the new revelations and indictments—
Yeah that pretty well sums it up doesn't it? I will keep you informed on that note—
But right now, I want to remain focused today on the Holy War—that is tearing up the Democrats—and you have to wonder—if there wasn't all of this early voting all over the country—would some of those districts in Virginia—with high numbers of Jewish voters—would some of those races flipped to Republicans?
And this is a question that both Democrats and Republicans have to consider—
Its clear after this years off year election—the GOP kryptonite is abortion—and the Democrats have used this divisive issue to crush Republican hopes all over America—
But for the Democrats—it's the open anti-semitism of many members of Congress and tens of thousands in the streets that are chasing Jewish voters away by the millions too—and while Republicans seem unable to solve the abortion question—Democrats are equally desperate to get away from the question of whether they support Israel or the Palestinians?
This is obviously an issue they cannot seem to manage—Joe Biden claims he stands with Israel—but more and more members of his Administration are critical of Prime Minister Benjamin Netanyahu for pushing the IDF deeper and deeper into Gaza—
1,400 Israeli civilians were slaughtered by the Hamas terrorists that are backed and financed by Iran—the total number of casualties now is somewhere around 10,000 following Israels brutal counter-offensive into Gaza—and again this exposes the Democrats internal Holy War—
And the divide is not just in Congress—but it is across the Democrat Party—from the young to old—
And what about all the protestors that are flooding the streets here and around the world—many of the pro-palestinian protestors are college kids—that have been taught for years that Israel is occupying stolen lands and has an apartheid government—neither of which is true of course—BUT ignorance is the fuel here—and its dangerous—
And what about those ordinary looking people—that are just randomly hammering Israel and Jews?
The ones that don't seem to care about the truth of terrorist atrocities—
OH AND ONE MORE THING—